The RVDA of Canada has announced the nominees for the
33rd Annual Walt Paseska Memorial Canadian RV Dealer of the Year Award
Article Credit: Norm Rosen RV Dealer News (rvldealernews.com)

Each year, the RVDA of Canada and Canadian regional RVDAs, in conjunction with RV Lifestyle Magazine and RV Dealer News, invite nominations from across Canada for the Canadian RV Dealer of the Year Award. The award is dedicated to the memory of the late Walt Paseska, founder of Walt's Trailer Sales in Headingly, Manitoba, in recognition of his many years of commitment and dedication to the RV industry, the RV experience, and the community at large.
Established in 1989, this award has been presented to Canadian RV dealers who share Walt Paseska's legendary enthusiasm and commitment to the industry; individuals who have been leaders in the RVDA movement either regionally or at a provincial or national level; who have exhibited a long-term dedication to the RV community; and who have made substantial contributions to their communities through charitable or philanthropic activities.
Each of the provincial RVDA organizations are encouraged to present their nominees to the RVDA of Canada selection committee, who evaluate the nomination documents and select the winner of the Canadian RV Dealer of the Year Award.
The documentation for the nominees is submitted to the RVDA of Canada selection committee, which consists of five previous Canadian RV Dealer of the Year winners and representatives from the RVDA of Canada and RV Lifestyle Magazine, the founding sponsor of the Award.

This year's selection committee is comprised of previous Canadian RV Dealers of the Year: Left to right: Jason Bell, Chemo RV, 150 Mile House and Quesnel, B.C.; Jim Gorrie and Kevin Betzold, GNR Camping World, Winnipeg, Manitoba; Bruce Marsh, Cape Breton Trailer Sales, Cape Breton, Nova Scotia; Al Robinson, Great Canadian RV, Peterborough, Ontario, and Andy Thomson, Can-Am RV Centre, London, Ontario.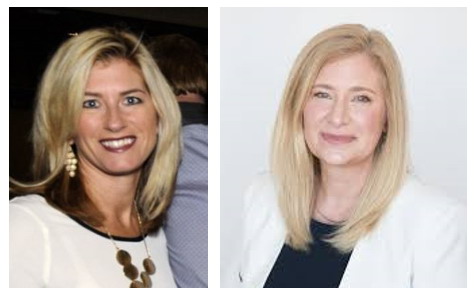 The selection committee operates under the supervision of Eleonore Hamm, RVDA of Canada, with assistance from Melanie Taylor of RV Lifestyle Magazine and RV Dealer News.
The award will be presented in-person at an official ceremony, coinciding with the RVDA of Canada annual general meeting, to be held during the RVDA Convention/Expo in Las Vegas, November 9, 2022.
For 2022, four distinguished Canadian RV dealers have been nominated for this honour, and we are pleased to introduce them here.

Chardell Brydon, Jerry's RV Trailer Sales & Service, New Minas, Nova Scotia
Jason Friesen, Voyager RV, Winfield, B.C
Roland Goreski, Campkin's RV Centre, Whitby, Ontario
Murray Sullivan, SMP RV, Houston, B.C.
The following information is derived from the nomination documents: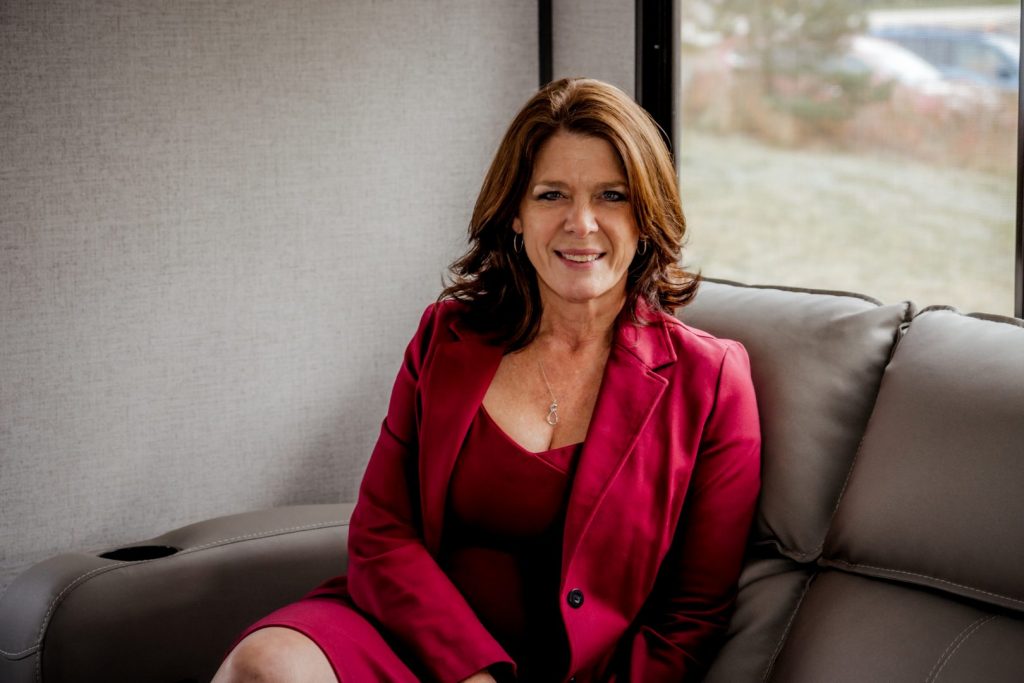 Chardell Brydon,
Jerry's RV Trailer Sales & Service, New Minas, Nova Scotia
Chardell Brydon has served for several years on the Atlantic RVDA Training Committee, eventually chairing the committee. She currently chairs the RVDA National Education Committee, having joined that committee in October 2019.
Jerry's RV is a regular and active participant in ARVDA's RV Show Program. Chardell was recently elected as Vice-President on the ARVDA's Board of Directors.
She continues to serve as a member of ARVDA's Training Committee, and she is also involved with several training initiatives, including the national trouble-shooter clinic. Chardell serves as a member of ARVDA's Show Committee.
Jerry's RV is a regular and active participant in ARVDA's RV Show Program. Chardell serves as an observer on ARVDA's Board of Directors and is a regular participant and contributor to those meetings.
Jerry's RV was incorporated in 1987 by Jerry Weir, Chardell's father. Chardell started in the business in 1987 and has been the operating dealer principal since 1993.
On a National level, Chardell joined the RVDA of Canada Education Committee in 2019 and became Chair of the committee in 2019.
---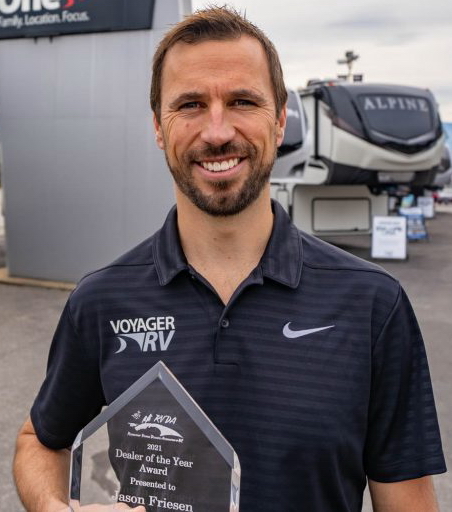 Jason Friesen, Voyager RV Centre, Winfield, BC
2021 RVDA of BC Dealer of the Year
Jason joined Voyager RV's management team as a leader in 2003 and has been the acting Dealer Principle since 2004 when Rod retired. In 2009 Jason became the Vice President and leader of Voyager RV and immediately set the new direction of Voyager RV to match his vision. He continued to drive the Friesen family mission of creating the best customer experience in the RV industry, even throughout the tough times of the recession. Jason also made the tough decisions to alter certain common RV-dealership practices, to better fit with the new generation of RV buyer. These changes were not easy on some but were a win-win for the customer and the dealership. All non-mandatory fees were removed, and all processes and practices were scrutinized to ensure that integrity, honesty, and transparency would be what Voyager RV would be known for by our customers and in the industry.
The unwavering message and direction from Jason Friesen led to a quick recovery. By continuing to embrace advances in technology and innovations in the RV industry Jason has ensured Voyager RV continues to lead our industry in British Columbia.
Jason continued to embrace innovations of website design, responsive website formats, custom video email responses, and much more, to make the customer's research simpler and more rewarding.
Making sure that the customer experience continued to be the focus, Voyager RV has stayed well ahead of the competition. It has grown in market share and is by a wide margin the largest RV dealer in the BC interior, despite being located in a town with a population of just 15,000.
This last two years, Jason Friesen started the "Voyager Cares" Initiative. Voyager staff were given a list of 25 local charities to vote on, with the top 7 vote getters chosen to receive a share of $100,000 in donations pledged to be donated by Voyager RV over the campaign. Having the team's own experiences, hardships and heartbreaks being reflected in this way meant a great deal to Jason and the Friesen family. This was to be a true reflection of what was in the team's hearts, and a thank you for the amazing hard work and dedication they all possess and demonstrate every day. As we made the donations over the campaign to the different charities, the pride and emotional connection to these worthy causes the staff feels is wonderfully evident in their smiles and sometimes tears, as the representatives from the charities told everyone what these donations meant to their organizations and what it allows them to do here in our own community!
Team Voyager kept giving right through the Covid-19 shutdown and reopening until they reached their goal and donated an amazing $103,635 to local charities!
During the pandemic, the RV industry was blessed to be an industry that could still thrive during this unprecedented time, and Jason kept finding ways to "Support Local" and bought many meals for the whole team to support local restaurants and businesses that had to close their doors to regular customers.
---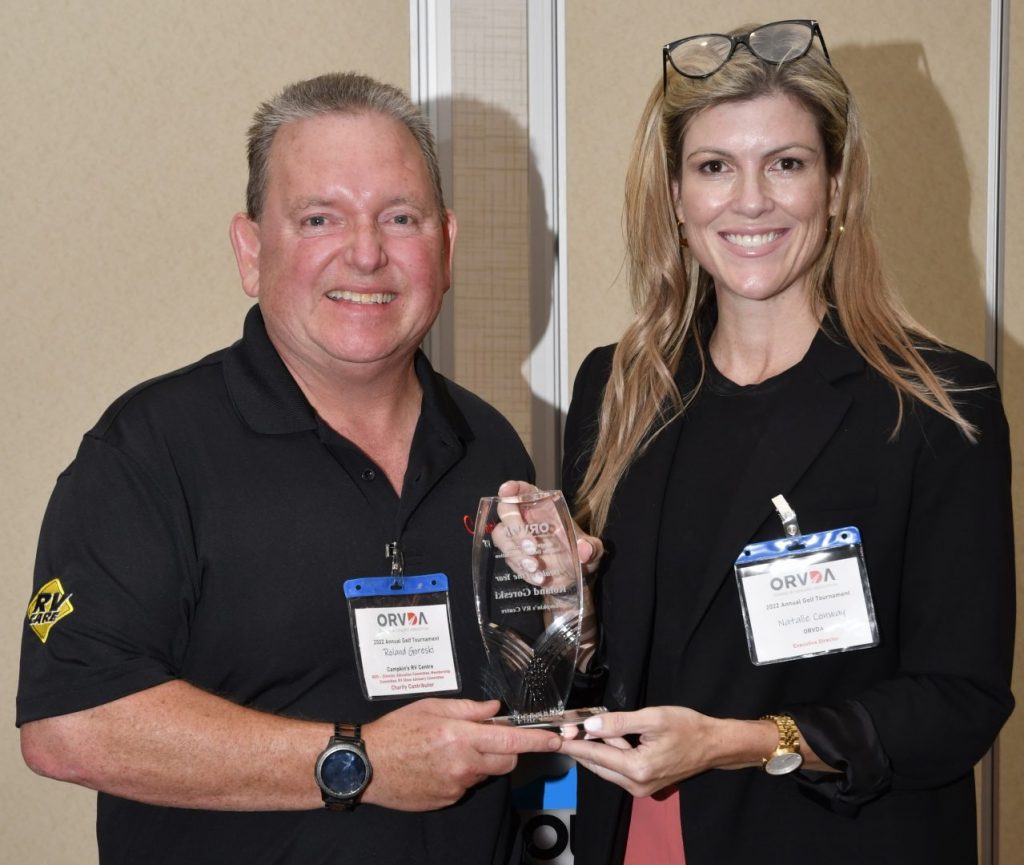 Roland Goreski, Campkin's RV Centre, Whitby, Ontario
2022 Ontario RV Dealer of the Year
The Ontario Recreation Vehicle Association announced Roland Goreski, Owner and General Manager of Campkin's RV Centre, Whitby, Ontario as the Dealer of the year at their 2022 AGM and Golf tournament August 24, 2022 at Blue Mountain Golf Course, Collingwood Ontario.
His experience in the RV industry goes back to the 70's when he started working at his family's Dealership, Skyview Trailers in Trenton Ontario. Roland's father Mel Goreski was a board member of ORVDA and supported ORVDA programs and RV shows. At Skyview Trailers he quickly embraced the General Manager position and with help from Spader and
ORVDA he got involved in educating himself and his staff to improve the dealership.
Roland joined a Spader 20 group and expanded his relationship with colleagues from across Canada, learning and sharing.
When Roland decided to leave the family business he called Brad Campkin to "review his resume" and the next chapter of his career began. Roland started at Campkin's RV in the Service Department, then Parts Manager and then Sales and Lead Sales person.
His dedication to getting the job done comes from his Dad, who told him many years ago "Amateurs make excuses, professionals get it done". It was this attitude that made him the perfect candidate to become General Manager at Campkin's RV. As General Manager he helped with Campkin's RV expansion in 2009 and helped grow the company during the most trying economic times.
This all lead to Roland being the perfect candidate to purchase Campkin's RV Centre when Brad Campkin decided it was time to retire. "Roland has all the experience and desire that it takes to run a successful RV Dealership in the 21st century, I quickly realized he was the perfect guy to carry on the Campkin's RV business."
Roland has served as a Director, Treasurer and as Vice President on the ORVDA board. He has also been Chairperson of the ORVDA education committee and has served on several other ORVDA committees such as the Golf/AGM committee and currently the Membership committee. On a National level Roland has served as a director on the RVDA board and been the Chairperson of the National Education Committee for the RVDA of Canada. His passion for education in the RV industry has been apparent in several initiatives he has been involved in. These initiatives include the initial RVTI curriculum discussion as well as lobbying efforts with Lorne Coe and other MP's and MPP's concerning developing a proper RV education stream. One of Roland's most notable achievements is the personal lobbying efforts with
individual dealers to fill the online red seal prep course through Okanagan College.
Roland has always made sure to support local charities and community events and continues today supporting Make-a-Wish, Big Brothers Big Sisters of North Durham, and Oshawa/Whitby as well as several charitable community events such as Brooklin Fair, Port Perry Fair, Durham Highland Games and Whitby Ribfest just to name a few.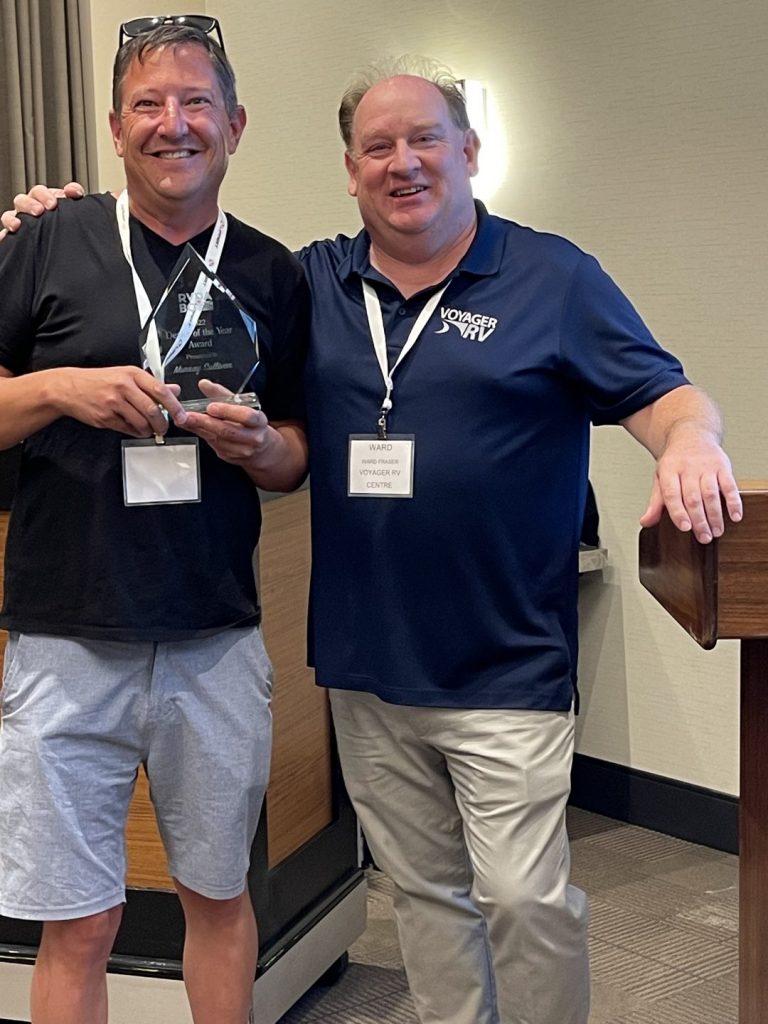 Murray Sullivan, SMP-RV, Houston, BC
2022 RVDA of BC Dealer of the Year
The following is an excerpt from Murray Sullivan's RV Dealer of the Year nomination documentation, provided by Darren Johnson, of First Canadian Financial Group.
Murray Sullivan has been a client of First Canadian Financial Group since 2012, and I have personally served with Murray on the RVDA of BC board since 2016. In that time Murray has always demonstrated generosity in his community, commitment to the RV industry, and leadership and business acumen while successfully growing his RV business.
Visiting Murray in his hometown of Houston BC, it is evident how involved in the Community he is. Murray believes in supporting local, so walking down the street in Houston, BC, everyone knows Murray on a first name basis. In the halls of SMP and SMP RV you will see the photos and letters of thanks from the local 4H, Minor Hockey, Minor Baseball, and the School's Raise a Reader Program to name a few.
Murray has also been generous with his time when giving back to the industry. As soon as Murray started in the RV business, he volunteered right away to serve on the RVDA of BC Board, progressing from Director through the executive to President.
Under his leadership, RVDA of BC committed to raising one hundred thousand dollars for Canuck Place Children's Hospice. A goal recently achieved in part thanks to Murray's
donations of prizes and his personal support at our annual charity auctions.
Since starting in the RV business in Houston back in 2014, Murray's business acumen and leadership has seen their RV business grow to three locations after the successful acquisition of long-time dealers in Vernon and Prince George. No doubt Murray's business success is a direct result of his generosity and community focus.
For all these reasons, I believe Murray Sullivan personifies what running a successful and community minded RV business should be, and why I believe Murray Sullivan would be a deserving recipient of the RVDA of Canada's Dealer of the Year Award.
Please stay tuned to RV Dealer News as we cover the 2022 Canadian RV Dealer of the Year Presentation Ceremony from the RVDA Convention/Expo in Las Vegas, November 9, 2022, 8:45am – 9:45am PST.